Publisher's Weekly hails K.L. Brady's work  as "comic and charming…" RT Book Reviews calls Brady's work "Hilarious!"…and saysshe "draws readers in immediately…and propels them straight through the drama, humor and the various twists and turns that will leave you exhausted but satisfied." Now the multiple award-winning author has a new romantic comedy that promises to be one of the funniest reads this year!

If she's addicted to beginnings, how will she find her happily ever after?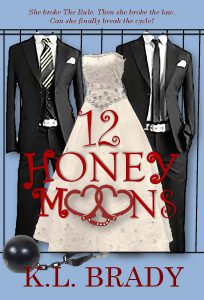 Miki Vincent's entire life stalled because she's addicted to the beginnings of things, especially relationships. She relishes in the emotional highs, first hugs, first kisses that new love brings. But sex always ruins it. That's why abstaining during the first three months of a relationship—following the 90-day rule—was supposed to help land her down the aisle with Mr. Right. Miki finds out the hard way, Mr. Wrong can wait that long, especially if his ultimate prize is her inheritance.
One assault charge and depression later, Miki devises the Honeymoon Plan, guaranteeing her a lifetime of firsts and zero heartaches. But following her own rule sends her life into an out-of-control spiral in which she's sentenced to more than perpetual break-ups. A new pursuit and a string of sexy suitors offer her the opportunity to jumpstart her life and test her new strategy. The only problem? It just might work.
Miki's best friend Pam, a repressed artist, struggles to keep her honeymoon alive but she can no longer ignore the blatant evidence staring her in the face: Her husband is having an affair. A different kind of "honeymoon plan" designed to free her from her troubles, and a chance meeting with a handsome artistic stranger, help reignite her passions. But will they destroy her marriage in the process?

Miki and Pam both learn the hard way that sometimes you have to lose your way to find yourself. 
Download PDF Chapters 1, 2, and 3 Here